For ages 13 to 18

Suitable for students with English level of A2 - B1/2. Students at B2 should consider other academics (for instance Debate or Study Skills) and those at C1/2 level will be too advanced for this class.

English Language at ISSOS is designed for students who have English as a second language. Our course caters for students of every ability and for three-weeks immerses them in an English speaking environment.
2024 session dates

St Andrews

Session 1

30 Jun - 21 Jul 2024

Session 2

24 Jul - 14 Aug 2024

Cambridge

Session 1

10 Jul - 31 Jul 2024

Yale

Session 1

14 Jul - 4 Aug 2024
English Language Summer School Classes
English at ISSOS is designed for students who have English as a second language. Our interactive classes cater to students of every ability and use topics of interest to help them to develop their knowledge, and confidence, in speaking English. ISSOS is also a fully immersive programme where native, and non-native speaking students are mixed at all times.
For older students (aged 15 - 18) with a stronger understanding of both spoken and written English (B2/C1) we recommend our Study Skills or Debate academics, which are both more suitable for students with a more advanced level of English. For more information on language levels and please click here to read our FAQ about suitability for each class.
Benefits of English at ISSOS

Highly qualified and experienced English Language teachers
Interactive, immersive classes that teach English based on topics of interest
Improved academic and social communications skills
Fully immersive programme where native and non-native speakers are mixed at all times
Develop core language skills: Speaking, reading, writing and listening
Use English to make friends with students from all over the world
39 hours of tuition
Pair this class with one of our exciting elective options
What Students learn

On arrival, students are given a short test to assess their language level and allocate them to a class, where they will learn alongside students who are of the same level.
At ISSOS, English is taught by addressing subjects that are relevant and interesting to students and using class time not just to look at language but to learn about issues that are important, that will help students both academically and socially. As an example, topics that might be covered in our classes include current affairs, using social media responsibly, climate change, politics, bullying and social responsibility.
Our classes utilise a range of materials to help our students learn through areas that interest them. Everything from newspaper and magazine articles, to Ted Talks, videos, music and out of classroom tasks will be used to help students learn to develop their English Language skills while staying motivated and engaged.
Students will complete the programme with the knowledge and confidence they need to use their new language skills in both academic and social settings.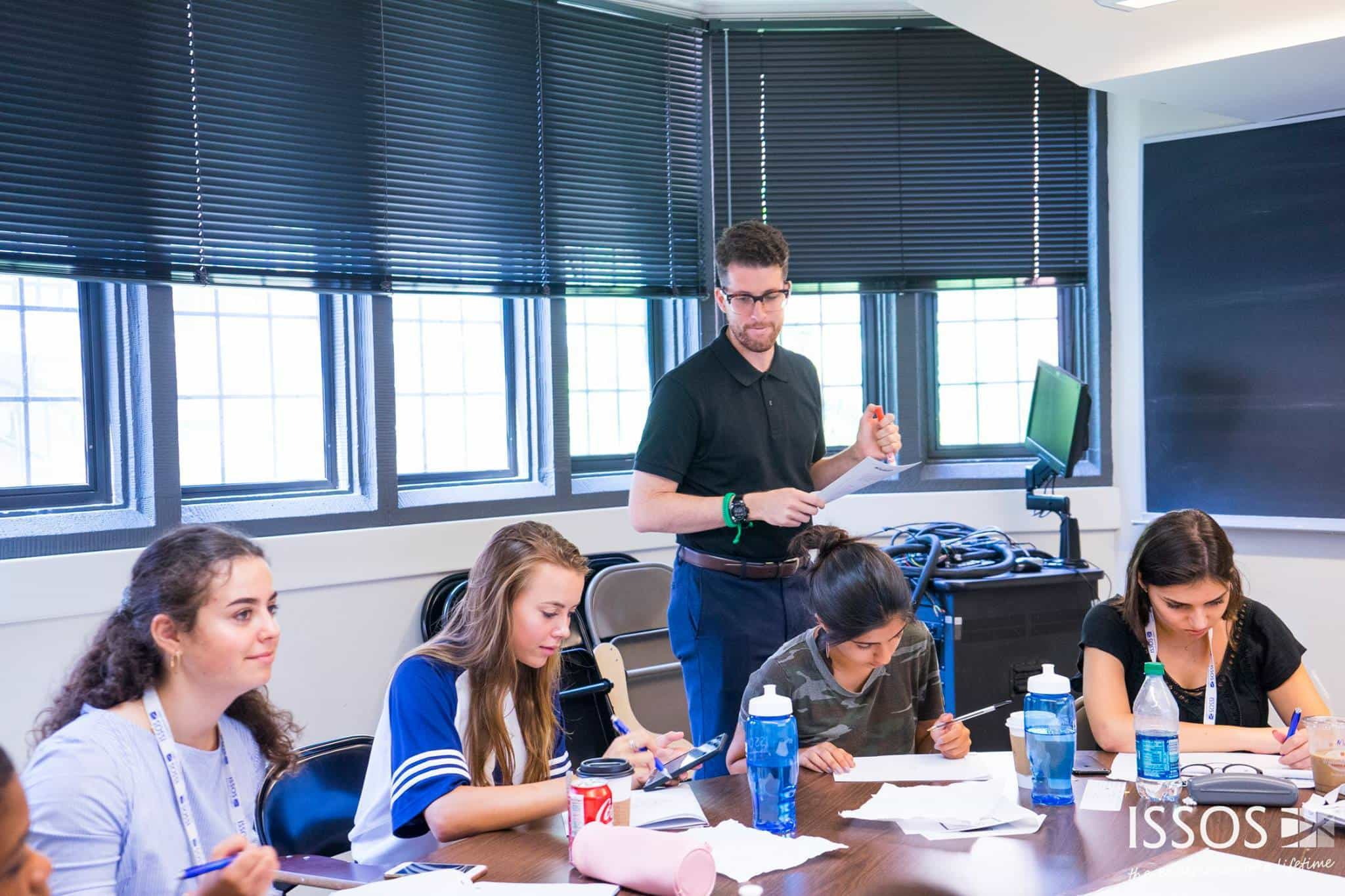 How It Works
We offer an all-inclusive 3-week residential stay at one of our exclusive University locations for students between the ages of 13 - 18

Students choose one Academic and one Elective option from the progamme.

Everyone takes part in exciting activities, evening programmes and cultural trips.

Each nationality is limited to 10% of the total intake of students to ensure a truly international experience.
we are here to help