Programme Director
Cambridge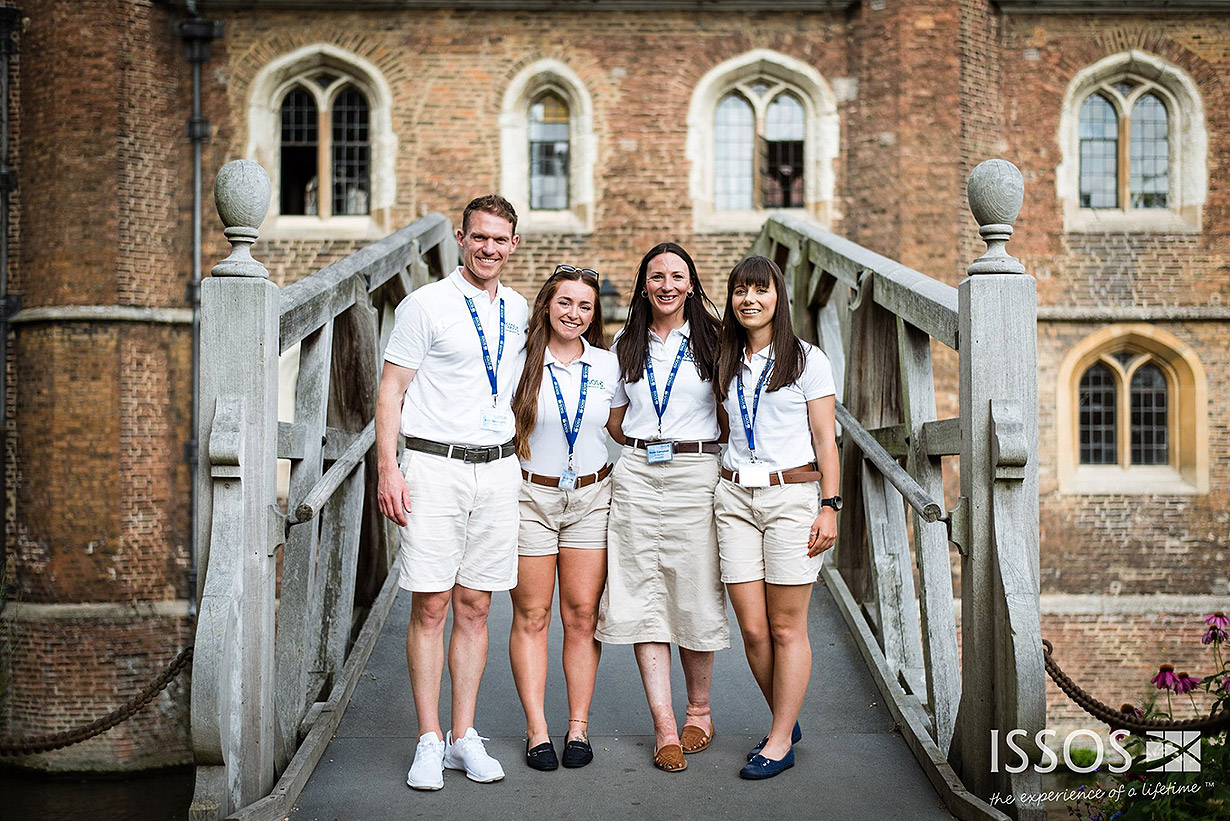 WHAT DOES THIS JOB INVOLVE?
The Programme Director (PD) will lead our team of Teachers, Head Counselors, Counselors, a Programme Assistant and a Media Manager, and is responsible for ensuring the campus runs to the standards and schedule as laid out by ISSOS. The PD at each ISSOS campus is responsible for the safety and wellbeing of all students and staff at their location.
This role involves a huge amount of responsibility, flexibility, organisational, managerial, leadership, and communication skills. It also requires someone with strong interpersonal skills who can work well with staff and students from all over the world, and who has a great affinity for fun.
It is essential that the PD gives 100% on a daily basis, in all areas, in order to give ISSOS students and our staff teams the best possible summer experience.
Anyone interested in applying for this position must have experience in dealing with the pastoral care of young people and have the ability to motivate and lead a team of staff.
YOUR MAIN RESPONSIBILITIES:
Creating and facilitating a safe and fun environment for both staff and students
Managing your team to ensure the smooth running of the whole programme
Make sure students and staff are safe and happy at all times
Being a positive role model
Being an approachable individual for both staff and students
Liaising with Head Office
WHAT SKILLS/EXPERIENCE DO YOU NEED?
Experience in staff management
Experience in dealing with student welfare
Previous experience in a similar environment, and working with international students is preferred
DELTA/postgraduate teaching qualification or relevant teaching experience desired.
You must be fluent in English
THE TYPE OF PERSON WE ARE LOOKING FOR
Passionate about working with young people
A clear and effective communicator
Enthusiastic and self-motivated
Flexible and adaptable
Hard-working and conscientious with a strong sense of fun
WHO CAN APPLY?
To apply for our roles you must either be a UK or a US citizen or have the legal right to work in the country you are applying for a role in. Please note that we cannot sponsor visas for working in the UK.
ANYTHING ELSE YOU SHOULD KNOW?
All of our staff must pass a full criminal background check*
We provide full bed and board for you at our campuses, plus fixed payment
This role is available in St Andrews and Cambridge
WHAT WILL YOU GET OUT OF IT
Our Programme Director roles are a great opportunity for anyone looking to build on their previous work with young people and gain invaluable experience that can be put into use in their full-time careers. You will develop your leadership and management skills while working with students and staff from over 80 nationalities, at the same time as having a fantastic summer experience of your own. No two days at ISSOS are the same and we are really proud of the fact that our staff team has as much fun during the summer as our students do.
WHEN AND WHERE WE NEED YOU:
St Andrews: 28th June - 17th August 2023
Cambridge: 8th July - 3rd August 2023
Read our staff testimonials or check out our Staff FAQs
Disclaimer
*ISSOS International and ISSOS USA are committed to safeguarding and promoting the welfare of its students and expects all stakeholders to share this commitment. Successful applicants will be expected to hold a current PVG/DBS or equivalent enhanced background check/be willing to obtain one. The cost of this will be covered by the company. Employment will be subject to the company receiving two references from previous employees covering your suitability for the specific position and working with those under 18 years old.
Worked with ISSOS before?
Apply Now